2019.6.28
ART OSAKA 2019出展のお知らせ | Participation to ART OSAKA 2019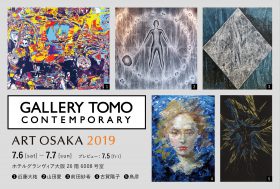 ART OSAKA 2019に参加します。
GALLERY TOMOは6008号室、前田紗希、近藤大祐、古賀陽子、鳥彦、山田愛と近年進境著しい5名のアーティストの作品を出展致します。
GALLERY TOMO will participate to ART OSAKA 2019 will be held from 7/6 on Room 6008 at Hotel Granvia Osaka.
Our exhibiting artists, Saki Maeda, Taisuke Kondouh, Yoko Koga, Tori hiko, and Ai Yamada, these 5 artists who have made remarkable progress in recent years.
Please show the artist page that If you need more information of each artists. Thank you.
ART OSAKA 2019
https://www.artosaka.jp/jp/gallery/g-6008/