2012.4.30
【企画】 六面体 Vol.2 彫刻展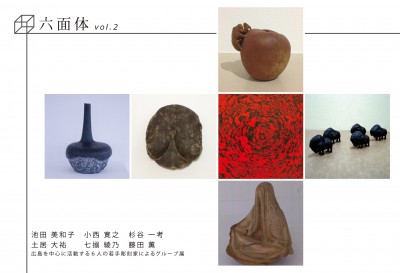 【企画】 六面体 Vol.2 彫刻展
2012年 ゴールデンウィーク
5月1日(火)→5月13日(日)※月曜休廊
12:00→19:00(最終日17:00迄) 
2010年に開催された「六面体」。
広島を中心に活動する、6人の若手彫刻家によるグループ展。
出展作家(予定)
池田美和子(いけだみわこ)
小西寛之(こにしひろゆき)
杉谷一考(すぎたにかずたか)
土居大祐(どいだいすけ)
七搦綾乃(ななからげあやの)
藤田薫(ふじたかおり)【Exhibition 】 「HEXAHEDRON/2012'」 Sculpture(Provisional Title)
2012 Golden week holidays at JAPAN.
Held in 2010, "HEXAHEDRON". Apart from education, and show in the land of Kyoto where the figure has grown as an artist.
The Exhibit will also participate in three of the ART EDITION/11(SEOUL).
Artists
Miwako IKEDA(いけだみわこ)
Hiroyuki KONISHI(こにしひろゆき)
Kazutaka SUGITANI(すぎたにかずたか)
Daisuke DOI(どいだいすけ)
Ayano NANAKARAGE(ななからげあやの)
Caori FUJITA(ふじたかおり)
※ For details, we will update as soon as they.